Anne Clark
Commander, Los Angeles Police Department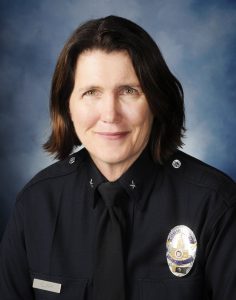 Commander Anne Clark was born in Whittier, California, and raised in Los Angeles County.
She joined the Los Angeles Police Department in 1986 and worked a variety of assignments as a police officer.  She was promoted to detective in 1994, and to sergeant in 1995.  Commander Clark promoted to the rank of lieutenant in 2002 and was assigned to 77th Street Area.  She spent four years as the Detective Commanding Officer in Southeast Area, and subsequently Harbor Area, before being assigned to Robbery Homicide Division as the Officer in Charge, Robbery Special Section.  She then served as an Officer in Charge at Internal Affairs Group before promoting to Captain in 2012.  Clark served as the Patrol Captain in Harbor Area and 77th Street Area, before becoming the Commanding Office of Gang and Narcotics Division.
In February 2015, Clark was promoted to Commander and assigned as the Assistant to the Director, Office of Administrative Services.  During this assignment, she successfully led the team that prepared the Department's proposal to provide contract law enforcement services to the Los Angeles County Metropolitan Transportation Authority (MTA) within the city of Los Angeles.  In May of 2017, Commander Clark became the Assistant Commanding Officer of the newly formed Transit Services Bureau, and in August 2018 the commanding officer of Transit Services Group, where she has been at the forefront of LAPD's burgeoning return to contract policing.  In December 2018 Clark became the Commanding Officer of Detective Services Group
Command Clark is a graduate of the University of Southern California, and holds a Bachelors and Master's degree in Public Administration.  She is a graduate of the Sherman Block Supervisory Leadership Institute, LAPD's WestPoint Leadership Program, and the Senior Management Institute for Police.  She is a member of the Latin American Law Enforcement Association (La Ley), and the Los Angeles Women Police Officers and Associates (LAWPOA).  Commander Clark is LAPD's first female Latina Commander and the mother of a teenage son.