Donald R. Beall
Chairman Emeritus
Retired CEO and Chairman, Rockwell
Chairman, The Beall Family Foundation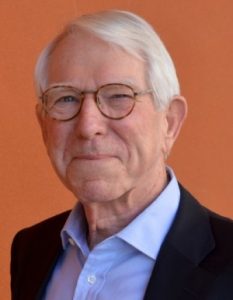 Donald R. Beall retired from Rockwell in 1998 after a 30-year career. He served as Chairman/CEO or President/COO for 20 years. Rockwell was a global leader in aerospace, electronics and automotive markets. Through a series of strategic actions, the company became focused on a diversified group of leadership electronics businesses serving factory automation, communications, avionics and various communications-semiconductor world markets. Those electronics businesses today are represented by three public companies through which significant shareowner value has been created.
He is a former director of Amoco, ArvinMeritor, Baker Hughes Corporation, Conexant Systems, CT Realty, Interfirst Corporation, Mindspeed Technologies, Proctor & Gamble, Rockwell, Rockwell Collins, Skyworks Solutions and Times Mirror. Currently, he is a partner in Dartbrook Partners, LLC (a family partnership) and the chairman of the Beall Family Foundation. His wife, Joan, and their two sons, Jeff and Ken, are active in the management of both Dartbrook Partners and the Beall Family Foundation. The Beall Family Foundation has endowed the Don Beall Dean of Engineering at San Jose State University; the Donald R. Beall Chair in Strategic Management at the University of Pittsburgh; and $5 million to fund the Beall Center for Innovation and Entrepreneurship at the UCI Paul Merage School of Business, which has since been transferred to establish the new UCI Applied Innovation facility. The Foundation continues to provide significant annual support to the Beall Center in the Merage School.
Beall is very involved with the University of California Irvine. He serves on several advisory boards and executive committees in a number of disciplines including: the UCI Paul Merage School of Business Dean's Advisory Board, Executive Committee, the Beall Center for Innovation and Entrepreneurship Advisory Board; Chairman, Founders' Board of Directors, UCI Applied Innovation; UCI Henry Samueli School of Engineering Advisory Board; Beall Center for Art + Technology Advisory Board; UCI Cybersecurity Policy & Research Institute, Executive Committee and member of the UCI Chief Executive Roundtable. He is an advisor to the San Jose State University School of Engineering and member of the Engineering Leadership Council. He is a trustee and President's Circle member of the Naval Postgraduate School Foundation, and serves as an Overseer of the Hoover Institution at Stanford. Beall's membership involvements include: Business Executives for National Security; The Presidents' Circle of National Academies of Science, Engineering & Medicine; the Old Capital Club of Monterey; the Bohemian Club of San Francisco; numerous Young Presidents Organization alumni groups; and member and past chairman of the Conquistadores del Cielo. He is a Fellow of the American Institute of Aeronautics and Astronautics. Beall was a member of the board of governors and past chairman of the Aerospace Industries Association of America (AIA) and was a trustee of the California Institute of Technology for many years.
Upon his retirement, Beall and his wife, Joan, were honored by Rockwell through the initial funding and establishment of the Beall Center for Art + Technology, UCI. Continuing significant support for the Center is provided by the Beall Family Foundation. Other past honors include: 2014 Claire Trevor Commemorative Star, UCI Claire Trevor School of the Arts, shared with Joan; 2008 SJSU Tower Award (San Jose State University's highest honor); 2001 UCI Medal; 1998 Horatio Alger Award; 1996 Human Relations Award from the Orange County Chapter of the American Jewish Committee, shared with Joan; and 1996 Front & Center Award as Orange County Person of the Year, presented by California State University Fullerton.
Beall received an engineering degree from San Jose State University and an MBA from the University of Pittsburgh. Both institutions have honored Beall with distinguished alumnus awards. Beall also received the 1991 Exemplary Leadership in Management Award from the John E. Anderson School of Management, UCLA. He is involved in numerous professional, educational, public policy and philanthropic endeavors and is an investor, director, and/or advisor with several venture capital groups, individual companies and investment partnerships.