Francis E. Quinlan
Counsel and Corporate Director
Newmeyer & Dillion LLP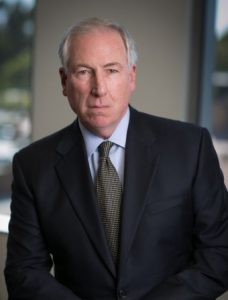 Brigadier General Francis E. Quinlan, United States Marine Corps (Ret.) is in active law practice with Newmeyer & Dillion LLP. Before entering the practice of law he was an agent with the Federal Bureau of Investigation. As a reserve officer and aviator, he performed active duty in command positions at the Squadron, Air Group, Air Wing, Marine Expeditionary Force and Joint Force levels of the United States Marine Corps; and served during OPERATIONS ENDURING FREEDOM AND IRAQI FREEDOM. He has conducted numerous investigations, most recently on active duty directing a team of intelligence and cyber experts in a national security inquiry. He has served for 15 years as a board director and chairman of the audit committee of Irvine Company LLC; was founding audit committee chairman and member of the Board of Directors of the California State Compensation Insurance Fund; is founding chairman of the Risk and Information Security Committee of Encore Capital Group, Inc. (NASDAQ), and former chairman of the audit committee; and is the chairman of the audit committees of Santa Fe Trust, Inc. and its sister company, Independent Trust Company of America, LLC. He has also served on the audit committee of Convoke Systems, Inc., an entity that provides software services to the financial industry. He is Emeritus General Counsel and former audit committee chairman of the Marine Corps University Foundation, Inc. Board of Trustees. Mr. Quinlan holds a Master of Laws in Taxation, has represented major financial institutions in matters ranging from governance and compliance to cyber security and has conducted and directed complex financial, tax, Foreign Corrupt Practices Act, internal fraud and national security investigations in his civilian and military careers. He has undergone financial forensic accounting training with the Federal Bureau of Investigation, completed information operations, cyber security and inter-agency professional schools at the national level and corporate network security programs involving multi-national enterprises.