Vince Steckler
Ex-CEO Avast,
Board member, Magical Bridge Foundation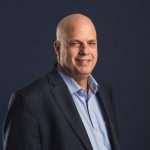 Vince Steckler is Avast's Chief Executive Officer and one of its Directors. Through Vince's leadership, Avast has transformed from a sub $20M regional company into a $750M full service global security provider using next generation technologies to advance its mission of making the internet safe and accessible by protecting the world from cyberattacks.
Prior to joining Avast in 2009, Vince was the Senior Vice President of Worldwide Consumer Sales at Symantec Corporation. Vince joined Symantec in 2000 as Vice President of Public Sector Business and started Symantec's business of serving U.S. local, state, and federal governments. He also held the position of Symantec's Vice President for Asia/Pacific and Japan and was responsible for all enterprise and consumer business in that region. Prior to joining Symantec, Vince had 20 years of experience in software development, systems analysis and engineering, project management, and business development.
Vince holds two B.S.'s from the University of California, Irvine, one in Mathematics and the other in Information and Computer Science.